Technical advance

Open Access

Open Peer Review
This article has Open Peer Review reports available.
Extended Field Laser Confocal Microscopy (EFLCM): Combining automated Gigapixel image capture with in silicovirtual microscopy
BMC Medical Imaging
2008
8:13
Received: 19 November 2007
Accepted: 16 July 2008
Published: 16 July 2008
Abstract
Background
Confocal laser scanning microscopy has revolutionized cell biology. However, the technique has major limitations in speed and sensitivity due to the fact that a single laser beam scans the sample, allowing only a few microseconds signal collection for each pixel. This limitation has been overcome by the introduction of parallel beam illumination techniques in combination with cold CCD camera based image capture.
Methods
Using the combination of microlens enhanced Nipkow spinning disc confocal illumination together with fully automated image capture and large scale in silico image processing we have developed a system allowing the acquisition, presentation and analysis of maximum resolution confocal panorama images of several Gigapixel size. We call the method Extended Field Laser Confocal Microscopy (EFLCM).
Results
We show using the EFLCM technique that it is possible to create a continuous confocal multi-colour mosaic from thousands of individually captured images. EFLCM can digitize and analyze histological slides, sections of entire rodent organ and full size embryos. It can also record hundreds of thousands cultured cells at multiple wavelength in single event or time-lapse fashion on fixed slides, in live cell imaging chambers or microtiter plates.
Conclusion
The observer independent image capture of EFLCM allows quantitative measurements of fluorescence intensities and morphological parameters on a large number of cells. EFLCM therefore bridges the gap between the mainly illustrative fluorescence microscopy and purely quantitative flow cytometry. EFLCM can also be used as high content analysis (HCA) instrument for automated screening processes.
Keywords
Image Capture
Virtual Microscope
Total Exposure Time
Microscope Software
Single Laser Beam
Background
The introduction of laser scanning confocal fluorescence microscopy represented a major breakthrough in biology. The elimination of the disturbing out of focus light allowed the visualization of delicate sub-cellular structures that were hidden in the blur of thick samples [1–4]. Although the technique reveals structures with unprecedented sharpness, it also suffers from limitations. The images generate by scanning a sample with a single laser beam, where the in-focus signal passes a pinhole and is detected by a photomultiplier tube. This technique requires that the laser beam spends a few microseconds, depending on the signal to noise needed, on each and every point of the sample in order to produce a fluorescence signal. The size of the captured area is thus limited by the exposure time. To cover an area of 512 × 512 pixels the total exposure is in the range of 1000 ms, which is a relatively long time [5]. Capturing an area over one Megapixel is rarely practical. To produce a sufficient amount of photons strong lasers are used that cause significant bleaching on fixed samples or potential harm to living cells.
An alternative to single-beam scanning systems is the use of a Nipkow spinning disc for out of focus blur elimination. The spinning disc has a spiral array of twenty thousand pinholes, producing a multi-beam illumination and thus allowing an instant confocal signal capture of an entire field. The efficiency of the illumination is significantly enhanced by the use of a multi-microlens disk in front of the pinhole array disk (the Yokogawa head design), which focuses the laser beams onto the pinholes [6]. The major advantage of parallel beam illumination is that an image can be captured using cooled CCD cameras. Modern CCD cameras contain over a million individual photon-detectors with comparable quantum efficiency to photomultiplier tubes. The greatly increased speed and sensitivity of Nipkow spinning disc systems permits the use of low intensity excitation light resulting in reduced photo-damage [7, 8]. Due to this advantage, spinning disc confocal microscopy is currently a preferred choice for live cell imaging [6, 7, 9].
CCD cameras can rapidly generate immense amount of image information. This, combined with the explosive increase in the computational power of modern desktop computers, make large-scale image capture, processing and analysis available for routine research use.
Due to the inherent human bias in the selection of an image area, fluorescence microscopy has for a long time been considered as mainly an illustrative tool. However, there is a great demand for quantitative analysis of fluorescence properties in cells [10, 11] as illustrated by the extensive development of different flow cytometry techniques. Flow cytometry can objectively analyse hundreds of thousands of cells, but gives only limited and indirect (forward and side scatter) information about morphology. Already twenty-five years ago attempts were made to combine flow cytometry with a CCD-camera system producing still pictures showing preserved information of morphology and internal state of individual cells [12].
Automated, bias free image capture is the foundation of virtual microscopy. The general definition of virtual microscopy is the capture of a large amount of consecutive image tiles and the alignment of them into a continuous panorama, that is freely "zoomable" in silico [13–16]. Similar technology has for many years been used by astronomers to create panorama views of the night sky and by cartographers and military intelligence when examining series of satellite images of the earth. In pathology this is commonly achieved using line scanners with transmitted light illumination, where the linear-array detectors create a number of contiguous overlapping image stripes. During the last twenty years the development of several automated microscopy imaging techniques aimed the digitization of entire microscope slides and have led to the emergence of virtual histopathology [17].
An emerging field in biomedical imaging is the combination of fluorescence microscopy with automated capture techniques. Motorized XY-tables and high resolution cameras have been used to digitize entire slides using wide-field fluorescence illumination and 20X objectives [11]. Fluorescence microscopy and automated mosaic imaging repeated over time has been used to study avian embryo development. The embryo was imaged using a 10X/NA 0,25 objective and the multi-field XY-area typically covered 8 images (875 μm × 688 μm), at 10 different Z-focus planes [18]. In the field of automated identification and classification of cells it has been shown how to combine automated image capture with fluorescence microscopy for a high-throughput cell phenotype screening [19], [20]. Here one of the goals and achieved result was to capture one cell per image in a mutlti-array/microtiter plate fashion without the need to reconstitute a mosaic of all wells [20].
A commercial example is the MetaMorph system, using wide-field epifluorescence illumination, executing automated multi-field image capture and the creation of large mosaics [21, 22]. Recently, original solutions with multi-objective arrays showed the possibility of fast wide-field capture over large areas [23]. In 1999, early attempts at virtual confocal microscopy were made by manually stitching confocal laser scanning microscopy images in Adobe Photoshop [24]. By the end of 2000, the power of automated Nipkow confocal microscopy and wide-field high-resolution cytometry was demonstrated in a new system. Due to the early version of the Nipkow module used, this system suffered drawbacks in illumination efficiency and was not sufficiently sensitive for low light fluorescence applications. Only 1–5% light throughput was reached, requiring long exposure times when using the confocal mode [25, 26]. In conclusion, there are several examples of how fluorescence microscopy is combined with automated imaging, but not to the extent of high resolution confocal microscopy, sensitive for low light fluorescence applications for areas reaching the Gigapixel size. We wanted to combine the microlens enhanced Yokogawa Nipkow spinning disc (40% light throughput [7]) confocal microscopy technique with automated image capture and analysis in order to produce high resolution images covering a very large area of interest, which could be analyzed automatically. Here we present the Extended Field Laser Confocal Microscopy (EFLCM) – method, where the end result is a Gigapixel mosaic showing confocal fluorescence information from several thousands of images at the maximal resolution achievable by a light microscope.
Methods
Hardware
In this study we have used a custom built instrument based on the UltraVIEW LCI system (Perkin Elmer, USA). The system includes: A motorized Axiovert fluorescence microscope 200 M (Zeiss GmBH, Göttingen, Germany), a CSU10 Yokogawa head – a multilens/multi pinhole array aperture (Yokogawa, Japan), a motorized XY-table (Märzhauser, Germany), an ORCA ER cold CCD camera; detector array 1344 × 1024 px (Hammamatsu, Japan), a 3-line Argon-Krypton Laser; 488 nm, 568 nm, 647 nm (Melles Griot, USA) and a mercury lamp (Osram) for 365 nm illumination. The following objectives were used in this study (Zeiss):
10X/NA 0,25 Ph1 ∞/- A-Plan,
16X/NA 0,5 Imm Plan – Neofluar ∞/0,17
63X/NA 1,25 Oil Ph3 Plan – Neofluar ∞/0,17.
Software
All hardware was controlled and automated using programs developed by us (see the Results section), in the programming environment OpenLab Automator (Improvision, Perkin Elmer). The raw multi-field image stacks were processed in and mosaics assembled using the ImageLab/Virtual Microscope software (Aragon System, Östersund, Sweden). The programs are available at the following web sites [27] and [28].
Preparation of biological samples
Both paraffin embedded and frozen slides of rodent tissues were labeled either by immunofluorescence or conventional histological (HE) staining. In vitro cultured cells were grown on cover glass in monolayers, alternatively suspension cells were centrifuged on glass slides using cytospin centrifuge (50.000/100 μl, centrifuged at 1500 rpm for 4 minutes). Immunofluorescence staining of viral antigens and transfection of monolayer cells with plasmids carrying GFP fusion proteins were carried out as described in earlier publication [29]. The cells were fixed using methanol:aceton 1:1 mixture or 1% formaldehyde in PBS.
All cells used in this study were cultured in IMDM (Sigma) supplemented with 10% FCS (Sigma) and 50 μg/ml Gentamicin (Sigma). Cell suspensions were grown in a humidified incubator at 37°C in an atmosphere containing 5% CO2.
Discussion
The introduction of Nipkow spinning disc confocal technology, the ability to automate the actions of a motorized microscope and the increasing power of desk top computers have stretched the boundaries of microscopy and image acquisition. Combining these factors with advanced in silico image processing; we have shown that it is possible to create high-resolution confocal panoramas of specimens covering entire slides. Here we presented the Extended Field Laser Confocal Microscopy (EFLCM) method, allowing the presentation of a Gigapixel mosaic that combines information from several thousands of images showing both X,Y and Z-information.
In our view one of the most important emerging trends in microscopy is the automation of advanced microscopy techniques. Confocal microscopy is mainly used today as an illustrative tool. There is a need to use confocal microscopy as a technique for objective measurements. Automated, observer independent image capture can eliminate the greatest source of error in quantitative microscopy – the bias of the subjective field selection. It also produces images captured under identical conditions, preventing inhomogeneous exposure and differences in bleaching of the samples and thus allowing a more reliable quantitation of intensity analysis.
We have used the OpenLab Automator, a high level visual programming language, to create programs that drive automated microscope functions. Previously we have shown that hardware controlling programs created in a similar programming environment, ISee (ISee Imaging Systems, Raleigh), can be very useful in rapidly generating deconvolved 3D images [40]. Through this publication we would like to advocate that high level visual programming languages enable users to tailor imaging applications, without extensive knowledge of complex computer languages.
To perfectly assemble very large arrays of images, with pixel precise matching, is however beyond the capacity of the OpenLab programming environment. To meet this challenge, we have developed the ImageLab/Virtual Microscope software. In this software the image stack is processed for imperfections and a new stack of perfectly aligned and intensity corrected images are constructed to create a seamless panorama. After this digitalization process the actual browsing of the specimen is independent of the physical microscope. Virtual microscopy has rapidly gained popularity in clinical pathology and medical teaching where bright field illumination allows the use of line scanners, permitting very rapid image acquisition in the Gigapixel range [16, 17, 41–45]. Although EFLCM uses a process of image capture (approximately 400 images/hour using a 63X objective, the time is dependent on the thickness of the z-depth, which increases with size of field) that is considerably slower than line scanners, its ability to detect very weak fluorescent signals, at different wavelengths and at the maximum resolution of a light microscope, gives it a great advantage. Moreover, the "Moving Z" confocal illumination technique generates images that quantitatively preserve all visual information from different focal planes thus allowing precise measurements within the context of preserved biological structures.
The extensive use of transgenic and gene knockout technology rapidly generates genetically modified organisms, often with very complex and unpredictable phenotypes. The possibility to automate confocal microscopy imaging of entire mouse embryos [
36
] and fetuses (Fig.
11
), zebrafishes, nematodes and fruit flies, all at maximal resolution, may become a very valuable tool for functional genomic research. EFLCM will allow the measurement of the expression levels of mRNAs of individual genes by fluorescent in situ hybridization, the levels of individual proteins by immunofluorescent staining or the activity of selected promoters after targeted insertion of GFP expression cassettes in tissue sections. Using EFLCM in multi-wavelengths mode will permit the analysis of biochemical effects of selected genes on tens of thousands cultured cells after introduction by transient transfection.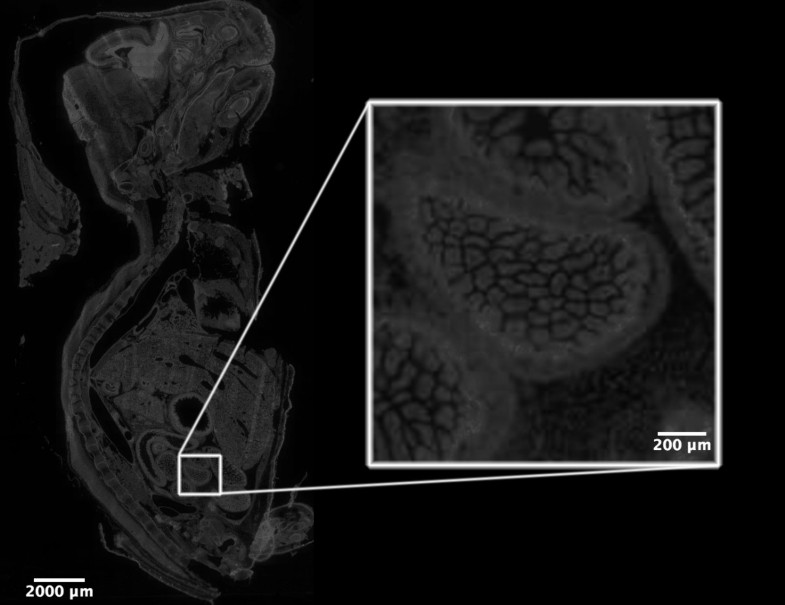 Adopting EFLCM to analyze 384-well plates can provide a simple instrumental solution for academic researchers helping to adopt high content analysis techniques in their everyday work. It may create a technological platform for large-scale analysis of living tumor or immune effector cells in routine clinical laboratory praxis to assist individualized assay guided therapy, as we have recently shown [37–39].
Conclusion
We have developed a technique that we call Extended Field Laser Confocal Microscopy (EFLCM). It is based on automated confocal microscopy and high performance image processing in silico. We have shown that it is possible to produce seamless confocal panoramas, using an image capture technique developed by us in the visual programming language Openlab Automator followed by advanced image processing and mosaic assembly in the ImageLab/Virtual Microscope software. We have shown that EFLCM is a useful tool for qualitative and quantitative analysis of histological slides, embryos, fetuses, a large number of transfected cells and of samples in 384-well plates.
Declarations
Acknowledgements
This project was supported by grants from the Karolinska Institutet, Swedish Cancer Society (Cancerfonden), Swedish Research Council (Vetenskapsrådet) and from Cancer Research Institute (CRI), USA.
We would like to thank Doctor György Stuber for providing HHV8 GFP-LANA transient transfected cells and Tom Brass for his careful English language proof reading.
Authors' Affiliations
(1)
Department of Microbiology, Tumor and Cell Biology (MTC) and Center for Integrative Recognition in the Immune System (IRIS), Karolinska Institute, Stockholm
(2)
Sweden Karolinska Institute Visualization Core Facility (KIVIF), Sweden
(3)
Aragon System Poppelvägen, Froson, Sweden
Copyright
© Flaberg et al; licensee BioMed Central Ltd. 2008
This article is published under license to BioMed Central Ltd. This is an Open Access article distributed under the terms of the Creative Commons Attribution License (http://creativecommons.org/licenses/by/2.0), which permits unrestricted use, distribution, and reproduction in any medium, provided the original work is properly cited.