Research article

Open Access

Open Peer Review
This article has Open Peer Review reports available.
Histological image classification using biologically interpretable shape-based features
BMC Medical Imaging
2013
13:9
Received: 15 March 2012
Accepted: 20 February 2013
Published: 13 March 2013
Abstract
Background
Automatic cancer diagnostic systems based on histological image classification are important for improving therapeutic decisions. Previous studies propose textural and morphological features for such systems. These features capture patterns in histological images that are useful for both cancer grading and subtyping. However, because many of these features lack a clear biological interpretation, pathologists may be reluctant to adopt these features for clinical diagnosis.
Methods
We examine the utility of biologically interpretable shape-based features for classification of histological renal tumor images. Using Fourier shape descriptors, we extract shape-based features that capture the distribution of stain-enhanced cellular and tissue structures in each image and evaluate these features using a multi-class prediction model. We compare the predictive performance of the shape-based diagnostic model to that of traditional models, i.e., using textural, morphological and topological features.
Results
The shape-based model, with an average accuracy of 77%, outperforms or complements traditional models. We identify the most informative shapes for each renal tumor subtype from the top-selected features. Results suggest that these shapes are not only accurate diagnostic features, but also correlate with known biological characteristics of renal tumors.
Conclusions
Shape-based analysis of histological renal tumor images accurately classifies disease subtypes and reveals biologically insightful discriminatory features. This method for shape-based analysis can be extended to other histological datasets to aid pathologists in diagnostic and therapeutic decisions.
Keywords
Renal Cell CarcinomaClear CellRenal TumorShape DescriptorHistological Image
Background
We develop an automatic histological image classification system that uses biologically interpretable shape-based features. These features capture the distribution of shape patterns, described by Fourier shape descriptors, in different stains of a histological image. We use this system to classify hematoxylin and eosin (H&E) stained renal tumor images and assess its classification performance by comparing it to methods based on textural, morphological, and topological features.
The application of this system to cancer is important because, despite progress in treatment (e.g., early diagnosis, reduction of mortality rates, and improvement of survival), cancer is still a major health problem in the United States. Specifically, it is estimated that there were 60,920 new kidney and renal pelvis cancer cases in the United States in 2011, resulting in 13,120 deaths [
1
]. Successful prognosis or treatment of renal cell carcinoma (RCC) depends on disease subtype, each of which exhibits distinct clinical behavior and underlying genetic mutations [
2
]. Thus, it is important to accurately determine the subtype of an RCC patient from among the most common subtypes: clear cell (CC, 70% of cases), papillary (PA, 15%), and chromophobe (CH, 5%) [
3
]. In addition, it is also important to identify benign renal tumors, the most common of which are the renal oncocytomas (ON, 5% of cases). Figure 
1
shows typical examples of H&E-stained renal tumor images. Pathologists, guided by the World Health Organization (WHO) system, manually classify renal tumors using light microscopy based on typical features [
3
]. Even though the WHO system is capable of classifying typical examples, some cases are more difficult. For example, ON and CH are often confused because both have granular cytoplasm. CH and CC can also be confused because both have prominent cell membranes. Moreover, there are two reported subtypes of PA that have varying visual appearance [
3
]. Thus, a pathologist's diagnosis may be subjective.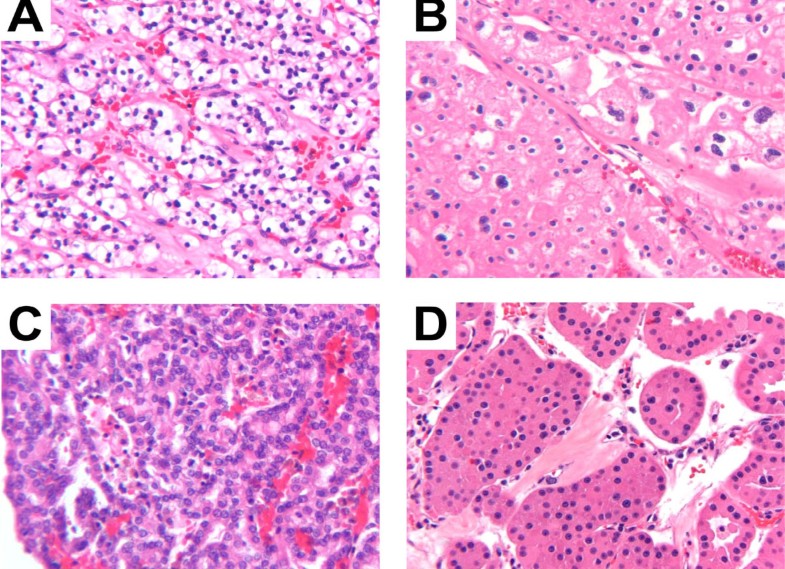 Over the last decade, several automatic or automated systems have been developed to aid histological cancer diagnosis and to reduce subjectivity. All of these systems attempt to mimic pathologists by extracting features from histological images. Some important features include color, nuclear shape, fractal, textural gray-level co-occurrence matrices (GLCM), wavelets, and topological, among others [4, 5]. Several diagnostic systems for renal cell carcinoma (RCC) are good examples of the utility of these features. For example, Chaudry et al. proposed a system using textural and morphological features with automated region-of-interest selection for RCC subtype classification [6, 7]. Waheed et al. performed a similar analysis but included fractal as well as textural and morphological features [8]. Choi et al. extended the morphological analysis to three-dimensional nuclei and applied their system to RCC grading [9]. In addition to morphological features, Francois et al. used cell kinetic features in their RCC grading system [10]. Finally, Raza et al. used a scale invariant feature transform (SIFT) method to classify RCC subtypes [11]. Despite the success of these systems in terms of diagnostic accuracy, widespread use of these systems is limited by a lack of feature interpretability. Some researchers have provided visual interpretation of features. For example, some topological features have been related to the amount of differentiation in varying cancer grades [12]. In contrast, pathologists may not be receptive to, or confident in, features such as wavelet or fractal representations of images because they are not easy to interpret biologically. Moreover, most existing systems exploit morphological properties of nuclear shapes and ignore cytoplasmic and glandular structures despite evidence of their utility [13]. Thus, methods based on a holistic view of shapes and colors may more accurately reflect the process by which a pathologist interprets a renal tumor image [3].
Fourier shape descriptors, described by Kuhl and Giardina [14] have been reported to be very useful as shape descriptors. They are highly robust to high frequency noise because of their ability to reject higher harmonic shape descriptors. Researchers have used Fourier shape descriptors for various medical imaging applications, including shape-based vertebral image retrieval [15], and classification of breast tumors [16]. The medical images involved in these studies typically have definite shapes with consistent landmarks. In addition, researchers have used Fourier shape descriptors for analyzing the shapes of nuclear structures [17–19]. Histological images, however, lack such landmarks and they tend to exhibit multiple highly variable shapes. As such, it is difficult to compare histological images using common techniques such as template matching with an image atlas [20] or using shape-based similarity measures after registration of the shapes in a histological image [21]. Therefore, in order to characterize and compare histological images in terms of shapes, we quantify the distribution of shape patterns in an image using Fourier shape descriptors.
We use three steps to build a diagnostic model from a set of histological images: (1) shape-based feature extraction, (2) feature selection, and (3) classifier model selection (Figure 
2
). We then evaluate this model-building process by examining the biological relevance of shapes (i.e., examining the subtype-specific tissue shapes and cellular structures that correspond to the best features of the classification model) and testing the classifier prediction performance using independent images. Finally, we compare the shape-based diagnostic model to diagnostic models based on traditional histological image features. We show that Fourier shape-based features (1) are capable of classifying H&E-stained renal tumor histological images, (2) out-perform or complement traditional histological image features used in existing automated systems, and (3) are biologically interpretable.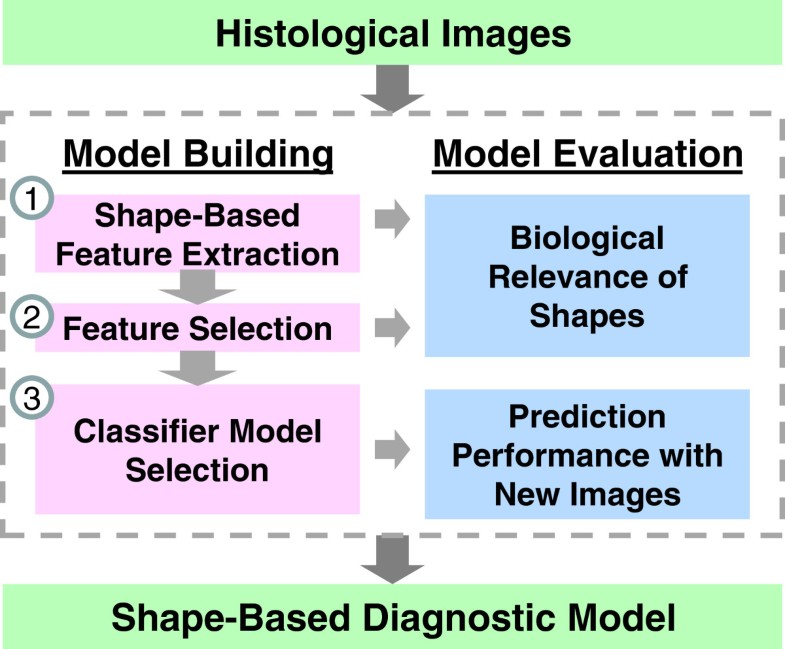 Conclusions
We presented a novel methodology for automatic clinical prediction of renal tumor subtypes using shape-based features. These shape-based features describe the distribution of shapes extracted from three dominant H&E stain colors in renal tumor histopathological images. We evaluated the four-class prediction performance of shape-based classification models using 10 iterations of three-fold nested CV. The overall classification accuracy of 77% (average external CV accuracy) is favorable compared to previous methods that use traditional textural, morphological, and wavelet-based features. Moreover, results indicate that combining shape-based features with traditional histological image features can improve prediction performance. The biological significance of the characteristic shapes identified by our algorithm suggests that this automatic diagnostic system mimics the diagnostic criteria of pathologists. We applied this methodology to renal tumor subtype prediction. However, the methodology may be extended to any histological image classification problem that traditionally depends on visual shape analysis by a pathologist. Moreover, these shape-based features may be coupled with other image features to achieve higher diagnostic accuracy.
Abbreviations
RCC:

Renal cell carcinoma
CC:

Clear cell
PA:

Papillary
CH:

Chromophobe
ON:

Oncocytoma
mRMR:

Minimum redundancy maximum relevance
DAG:

Directed acyclic graph
CV:

Cross-validation
GLCM:

Gray-level co-occurrence matrix
DAG:

Directed acyclic graph
LDA:

Linear discriminant analysis
SVM:

Support vector machine.
Declarations
Acknowledgment
We thank Dr. Todd Stokes and Dr. Mitch Parry for their valuable comments and suggestions. This research has been supported by grants from NIH (Bioengineering Research Partnership R01CA108468, P20GM072069, and CCNE U54CA119338), Georgia Cancer Coalition, Hewlett Packard, and Microsoft Research.
Authors' Affiliations
(1)
Department of Electrical and Computer Engineering, Georgia Institute of Technology, Atlanta, USA
(2)
Department of Biomedical Engineering, Georgia Institute of Technology and Emory University, Atlanta, USA
(3)
Pathology and Laboratory Medicine, Emory University, Atlanta, USA
(4)
Grady Health System, Atlanta, USA
Copyright
© Kothari et al.; licensee BioMed Central Ltd. 2013
This article is published under license to BioMed Central Ltd. This is an Open Access article distributed under the terms of the Creative Commons Attribution License (http://creativecommons.org/licenses/by/2.0), which permits unrestricted use, distribution, and reproduction in any medium, provided the original work is properly cited.